I made my first roasted chicken today. I had to watch a quick youtube
video
on how to truss a chicken. It turned out to be pretty easy. So I got a 5lb chicken today and seasoned it with a little salt and some pepper and cooked it for 2 hours. It was so juicy and delicious. We had it tonight with some corn.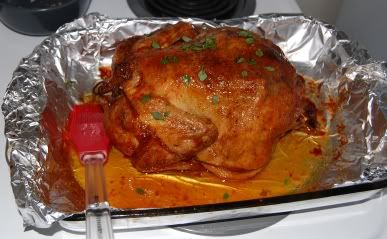 Next I want to make pulled chicken BBQ. I've been spending a lot of time in the kitchen lately. I made some cupcakes after dinner. Mini, teeny, tiny, little cupcakes that are so freaking cute!
The weather was so hot today. I wanted to spend every minute outside enjoying it. I finished my polka dot apron today. I have an idea for a new apron already that I may get started on soon. Can never have enough aprons.
+ sleeping cats
+ fan breeze
+ black grapes